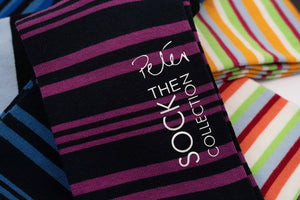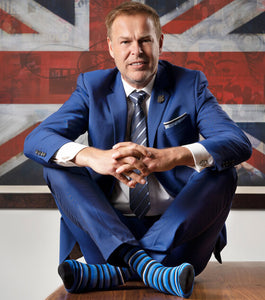 The Peter Jones Collection
The Peter Jones Collection is a new venture which is in response to the vast number of enquiries I have received over the years from people wanting to know where they can buy my stripy socks.

I have literally received hundreds of these enquiries so I've developed this collection which I hope you will enjoy wearing.

I've taken great care with the selection of designs and the choice of materials, the socks are made of 80% Organic Cotton, 18% Polyamide and 2% Elastane so they are natural, sustainable, biodegradable, soft yet durable. They're super soft and comfortable to wear, they wash well and the colours will remain vibrant after washing.

They even have a smooth toe seam which adds extra comfort. There are four styles in the collection and each style has two different colour options.

The socks come in two sizes 7-10 and 11-14

The collection looks great whether you are suited and booted for a formal occasion or dressed more casually.

I really hope you enjoy wearing them as much as I do.
Best wishes,